Greetings in the name of Jesus Christ, and welcome to the Church Softball Ministry 2003 hompage.

....... This website is specifically design to communicate information on this years softball season. You will find information on games, etc., and every team member will be able to review their schedule,scores and standings. Additionally, each player will have the opportunity to share praises and prayer request.


For the 2003 season, let us all remember who we represent and that this is a Christian Softball League, and have a great time of fun and fellowship giving God all the praise and glory.
Batter Up! ..... Let's ..... Play ..... Ball!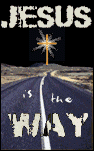 Team Prayer
Heavenly Father, thank you for the opportunity to be part of this great fellowship of believers. Please keep each player safe from injury and keep our attitudes in control that examples righteousness, holiness in Your love. We pray that you will continue to change our lives daily and transform us into your likeness. It is our desire that You be glorified and praised....... Amen!